Visitor Information
How to reach us
Villa Mondragone (16th century), lies among the villas in the ancient town ofTusculum,on a hill 416 meters above sea-level, between Frascati and Monte Porzio Catone .This area, called Castelli Romani (Alban Hills), is about 20 km south-east of Rome.

---

From Fiumicino airport:

fast train to Termini railway station (departures every 30 minutes, first departure at 07:37, last departure at 22:37, the trip lasts 32minutes), ticket € 8.77 .

continue from Termini by taxi. It costs around € 62.00/72.00 - $ 55/65 , see directions below.

---

From Ciampino airport:

blue COTRAL bus to Anagnina underground terminal. The bus leaves every 20 minutes and stops at Ciampino railway station and Anagnina underground terminal. Tickets can be purchased at the newspaper kiosk in the airport. Then continue from Anagnina (

see below

)

taxi costs around € 41.00/51.00 - $ 35/45 , see directions

below

.

---

take the underground "A" to the last stop, Anagnina (ticket € 1 ) and then continue from Anagnina (see below).

from Anagnina underground "A" last stop, take a blue COTRAL bus, direction Rocca Priora (bus-shelter n.° 6) to Monte Porzio Catone, ticket €1.00 , and get off at the Villa Vecchia Hotel bus stop.

---

from highway A1 Milano - Napoli or from highway A24 Roma - L'Aquila/Pescara: follow the signs for Roma Sud, take the Monte Porzio Catone exit, then follow the signs to Villa Mondragone and Hotel Villa Vecchia.

---

From Rome city centre:

take the G.R.A. (Grande Raccordo Anulare, the ring road around Rome) to the highway A1 Roma - Napoli, then take the Monte Porzio Catone exit. Follow the signs to Villa Mondragone and Hotel Villa Vecchia.


VILLA MONDRAGONE
Via Frascati, 51
00040 Monte Porzio Catone (Roma)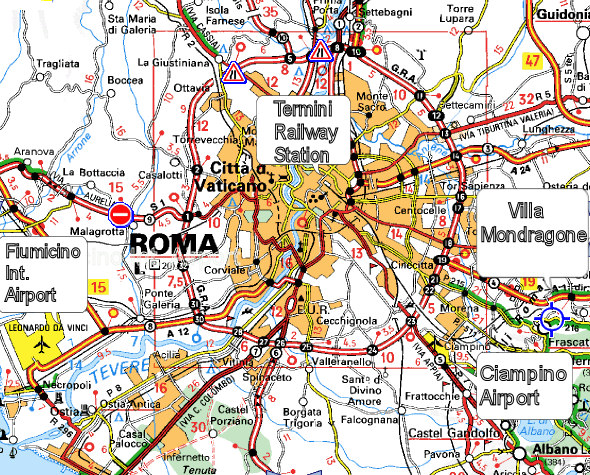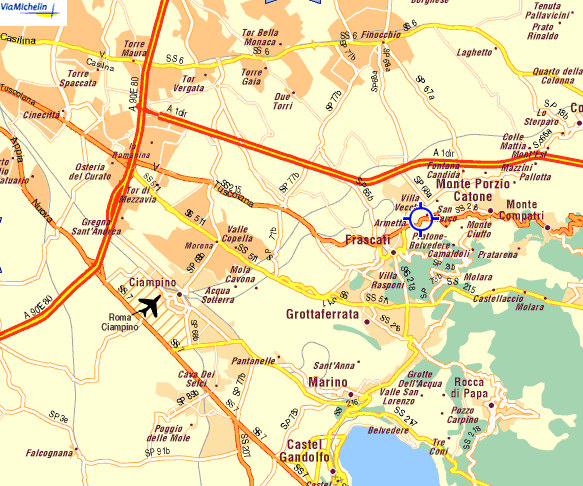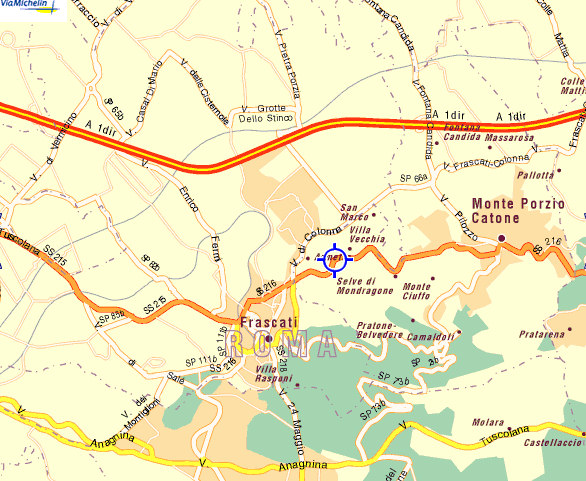 You can see an online route map clicking here.
You can get a satellite view of the congress center with this google earth link (google earth needed).